Navigation items and banners
---
---
---
International Seminars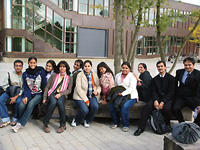 Indian students at FFU in Berlin, October 2008
Source: Swagata Dey
Integral to joint higher education is the creation of programmes designed to produce future environmental leaders in Germany and India.
These joint educational programmes aspire to empower young environmental decisions-makers and researchers with both the theoretical and practical basis necessary to make better environmental decisions. We emphasise an understanding of environmental governance that takes into consideration diverse cultural, political and economic backgrounds of the European countries, India, and others in the world, and, concomitantly, their implications for promoting environmentally sustainable development.
---
---
Aktuell
Das FFU und die Verbraucherzentrale Nordrhein-Westfalen diskutieren gemeinsam mit Wissenschaftlern und Praktikern am 16. Mai 2013 im Rahmen der Berliner Energietage "Auswege aus der Energiearmut?"
Die Pressemitteilung finden Sie hier.
05/14/2013
04/30/2013
Herausgeber: Sabine Weiland, Vivien Weiss und John Turnpenny. Erschienen in: Nature+Culture, Volume 8, Number 1, Spring 2013.
Das Thema dieses Special Symposiums ist die Konstruktion und Verwendung von wissenschaftlichem Wissen in Politikprozessen und der Impact, den dieses Wissen hat.
04/21/2013
---
Veranstaltungskalender
im Konferenzraum II, Henry Ford Bau, Garystr. 35, 14195 Berlin
05/03/2013, 12:00 PMTime
Die 4. Konferenz des Transatlantic Urban Climate Dialogue widmet sich integrierter kommunaler Energiesysteme und speziell geht es um nachhaltigen Städtebau, Wettbewerbsfähigkeit und wirtschaftliche Entwicklung.
Weitere Informationen
05/15/2013 - 05/17/2013
09/09/2013 - 09/13/2013