The master program Global Communication and International Journalism is a joint study program with Saint Petersburg State University (SPbU). Within this program the Division Media Analysis/ Research Methods normally offers a seminar within the module "Introduction to Communication Studies" during summer term. The respective seminar deals with the topic of "Methods of Media Research" and is normally accompanied by a tutorial.
Regarding master theses, the Division Media Analysis/ Research Methods offers an accompanying research colloquium for master students, who are supervised by the division.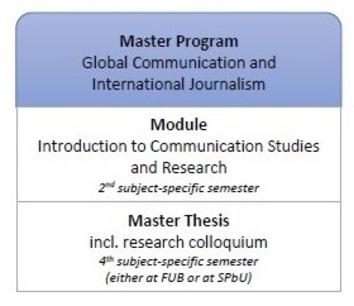 Contents (Excerpt of the Study and Examination Regulations of 2014, for information only)
In lectures, the students gain an overview of a range of research approaches in media and communication studies. General principles are introduced, focussing on international and transnational approaches and related issues in the field of global communication. The lectures raise their awareness of various phenomena of international and transnational communication in ever-changing media worlds. Research findings in the two collaborating countries and core studies from other countries are discussed.
In the following semester, fundamental knowledge in the field of qualitative and quantitative empirical research methods in media and communication studies are studied in a seminar. Forms of production analysis, content and discourse analysis are discussed, as well as various methods of media reception and media use research. The skills thus gained in data collection and analysis are examined in a term paper at the end of the module, which may take the form of the student's own case study or a critical secondary analysis of existing studies.
The legally binding version of the study and examination regulations in German language can be found here. A version in English language (for information only) can be find here.
Here you can find the latest courses of the division within this study program.