KFG Conference Report: "Transformative Power of Europe 2.0: The Road Ahead" (13-15 December 2012, Berlin)
News from Dec 17, 2012
Bringing together around 50 current and alumni KFG fellows  from a variety of international backgrounds, this year's KFG conference focused on the past, present and future research agenda of the Kolleg-Forschergruppe, which has just received another funding period by the Deutsche Forschungsgemeinschaft (DFG).
Image Credit: Jan Pauls Fotografie
Under the title "Transformative Power of Europe 2.0: The Road Ahead", eight panels  were held as platforms for discussion of the papers (see conference program). Some areas of interests addressed within the panels included the Europeanization in the European Neighborhood, the European Public Sphere, the external influences of European integration and the EU and the global economy.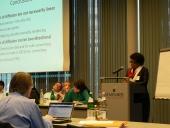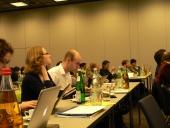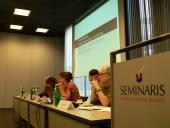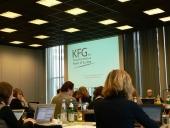 Image Credit: Jan Pauls Fotografie
As a conference highlight on Friday evening, a public panel discussion on "The Euro Crisis and the Future of European Integration" brought together different perspectives on one of the most prominent and pestering problems of present Europe. Followed by a lively debate with the audience, the panelists Charalampos Koutalakis (Chef de Cabinet, Greek Prime Minister's Office), Brigid Laffan (University College Dublin), Fritz W. Scharpf (Emeritus Director of the Max Planck Institute for the Study of Societies), and Vivien Schmidt (Boston University) shared their analyses on the Euro Crisis and its implications.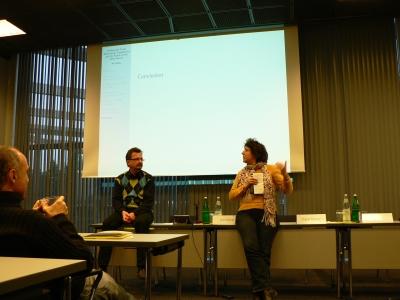 Image Credit: Jan Pauls Fotografie
The conference was ended by a concluding discussion, which was lead by the conference convenors and research directors of the Kolleg-Forscher Gruppe, Prof. Tanja Börzel and Prof. Thomas Risse.
A more detailled report will be published in our next newsletter issue.