Who we are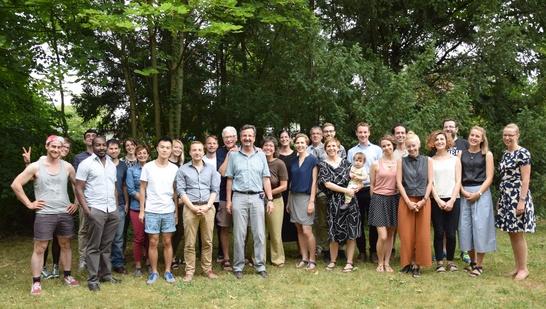 The Kolleg-Forschergruppe "The Transformative Power of Europe" (2016)
---
The diffusion of ideas has become a central research theme in political science, sociology, law, history, and economics. The Kolleg-Forschergruppe (KFG) investigates how ideas spread across time and space. During its first phase of research, from 2008 to 2012, the KFG studied the diffusion of policy ideas and institutions within the European Union (EU) and its candidates and neighborhood. During the second phase, from 2012-2018, the KFG realigns its focus of interest on the diffusion of ideas, policies, and institutions beyond Europe (comparative regionalism) and the analysis of the EU at the receiving end of external influences.
The activities of the KFG from 2009 to 2016 are presented in this overview.

---
Encourage Academic Exchange and Intensive Research
The Kolleg-Forschergruppe actively seeks and encourages academic exchange among scholars of various disciplines – nationally and internationally. Our PhD researchers, post-doctoral fellows, and senior scholars constitute the intellectual core of the KFG. Synthesizing research and pooling expertise is a major purpose of the KFG.
With its (post-)doctoral fellowships, the sabbatical program and the invitation of top senior scholars like Liesbet Hooghe, Gary Marks, David Levi-Faur and Fritz W. Scharpf, the KFG provides a supporting and stimulating environment for quality research.
---
Research Directors
Senior Scholars
---
Kolleg-Forschergruppen – A Special Funding Program
The Kolleg-Forschergruppe is a relatively new funding program launched by the German Research Foundation (Deutsche Forschungsgemeinschaft - DFG) in 2008. As a research college, it is intended to provide a scientifically stimulating environment for innovative research within a small group of senior and junior researchers.
It was one of three research colleges which the DFG approved in the first funding period. In autumn 2012, the KFG was granted another four years of funding, which is now extended until the end of 2018.
Further information on the funding program is available on the DFG-website.
---
The Research Environment Berlin Brandenburg
The Kolleg-Forschergruppe is part of a larger research and training environment in the social sciences at the Freie Universität Berlin and beyond. Its doctoral students participate in the Berlin Graduate School for Transnational Studies (BTS) of the Freie Universität Berlin, the Hertie School of Governance (HSoG), and the Social Science Center Berlin (WZB). The EU's external affairs, including its efforts at democracy promotion, are investigated at the DFG-Research Center (SFB 700) "Governance in Areas of Limited Statehood". Last but not least, the Kolleg-Forschergruppe participates in the FU Center for Areas Studies (CAS) which brings together considerable area studies expertise in social sciences and humanities.