The Spiritual Highway: A Case Study of FBOs' Provision of Education in Lagos (Nigeria)
Nigeria, known as the 'giant of Africa' due to its status as the continent's most populous country, is almost evenly divided between Christians and Muslims. There is a tendency in the literature on Nigeria to describe Christian-Muslim relations in terms of rivalry and violence, while in practice these relations are much more complex, marked not only by conflict but also by mutual influence and borrowing.
Despite Nigeria's secular constitution, religion has become increasingly important in the public sphere because of economic and political liberalization. One field in which privatization manifests itself most prominently is schooling. With the crisis of the Nigerian state, a diploma from a state school no longer guarantees employment. Many Christian and Muslim FBOs have reacted to this development by building and operating their own schools and universities, teaching religious moral values and content alongside secular subjects.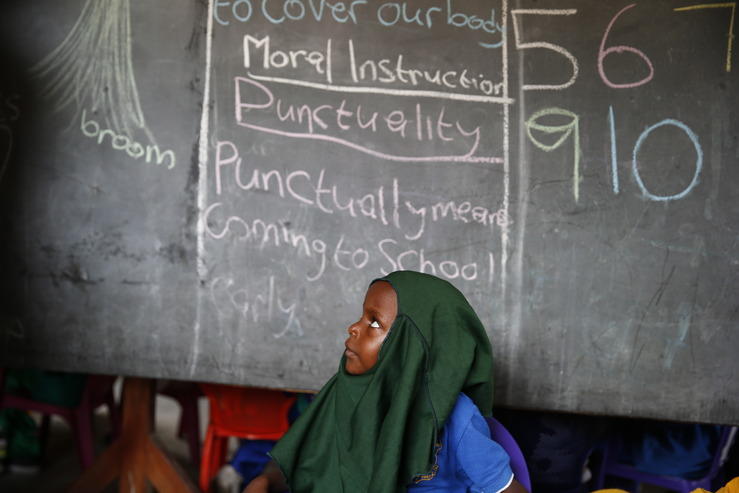 FBOs combine humanitarian and/or development aid with proselytizing activities and are among the religious organizations that have expanded fastest in Africa. Photo: Akintunde Akinleye
This project's starting point is that the Lagos-Ibadan Expressway, a 120 kilometre long highway that connects Nigeria's economic hub of Lagos with the third largest metropolitan area in the country, forms an interesting ethnographic case study to explore Christian-Muslim relations, and their implications for development, through the lens of education. Starting in the 1980s, dozens of Christian and Muslim FBOs linked to churches and mosques along this highway have established their own schools and universities. The Pentecostal mega-churches in particular have played an important role in educating Nigeria's political and economic elite. Fearing the exodus of their members to Pentecostal churches, Muslim organizations reacted by setting up their own educational institutes. The proliferation of Christian and Muslim FBOs along the Lagos-Ibadan Expressway explains why it is often nicknamed the 'Spiritual Highway'.
Schooling is one of the main fields in Africa to leave one's religious imprint. Photo: Akintunde Akinleye
By means of a case study of the Spiritual Highway, this project maps how schooling has transformed Christian-Muslim relations as well as FBOs' relations with the state. The central question addressed in the project is whether schooling separates Christian and Muslim FBOs in their struggles for funding, students, a political voice, and (inter)national recognition within the Christian and Muslim community, or whether their critique of the failure of the Nigerian state to deliver educational services unites and encourages them to participate in a national dialogue about the country's future. Furthermore, it asks whether schooling enables Christian and Muslim FBOs to participate in (trans)national governance. How is the religiously motivated expansion of the educational sector linked to histories of inter- and intrareligious differentiation and competition in Nigeria? How does religious conviction influence the schools' curricula? How do students and their parents define 'good' education? Paradoxically, although FBOs are usually described as 'non-profit', the school fees charged by them amount to some of the highest in Nigeria. This raises the question of whether religiously driven privatization promotes social justice or rather facilitates greater social inequality. By addressing these questions, this project aims to provide insight into the ways in which FBOs, through their involvement in schooling, offer their employees and beneficiaries professional opportunities, moral orientation, and the promise of a better future against the background of what is often termed 'failed governance'.