May 16, 2022 | Roundtable Discussion | "A new Authoritarianism? - Perspectives from South Asia" with Faisal Devji and Sumrin Kalia
News vom 22.03.2022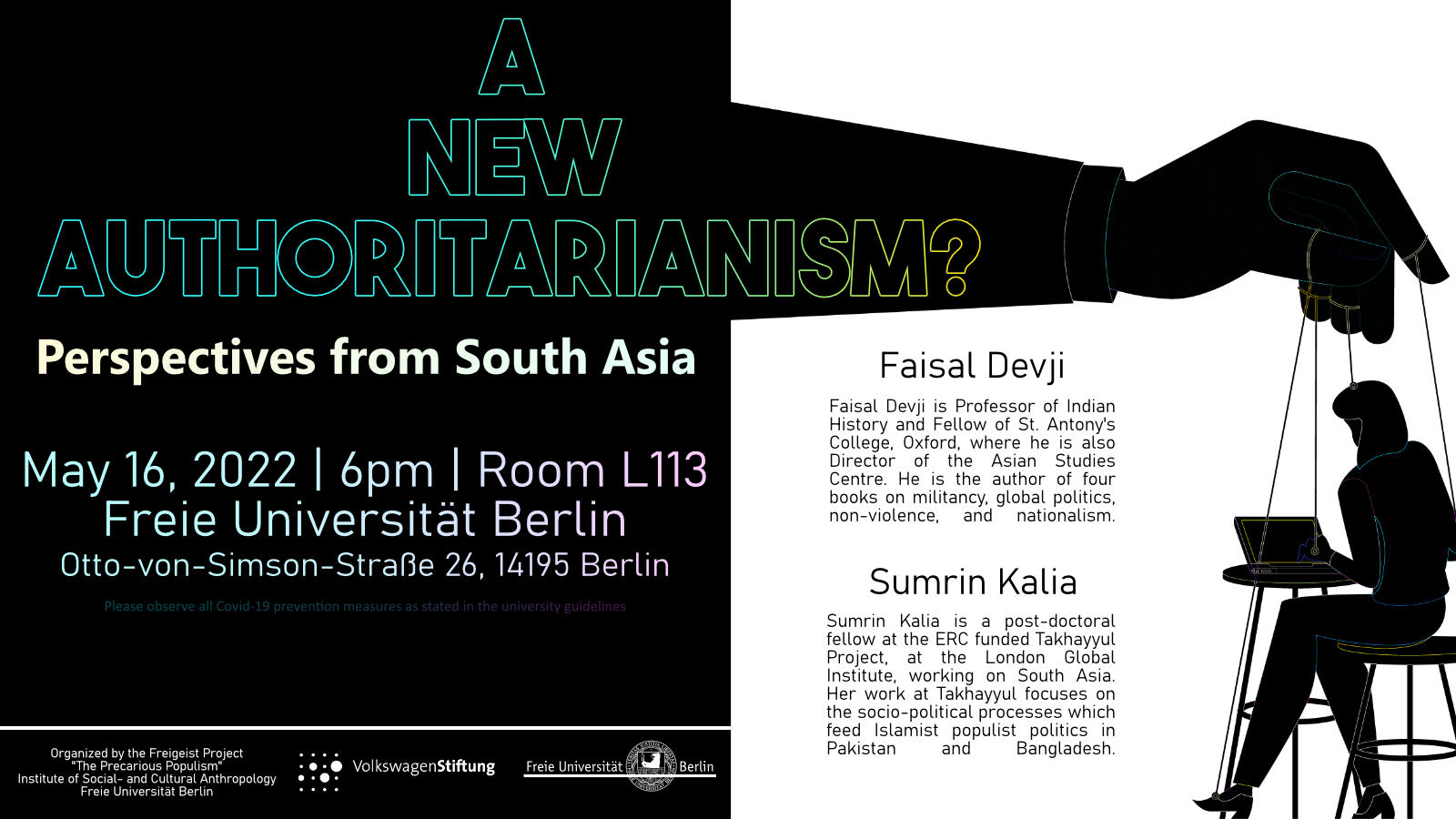 Visuals by Christoph Marx
The Populism of the Precarious project invites the general public to "A New Authoritarianism? Perspectives from South Asia" with Prof. Faisal Devji and Dr. Sumrin Kalia. This discussion roundtable aims to bring together experts from both India and Pakistan and ask pertinent questions of South Asia's political present and future.
The last decade has shown an increasing shift toward authoritarianism in South Asia. The civilian-hybrid government of Imran Khan has increasingly utilized online and offline intimidation tactics to advance its agenda. In India, the Modi government has, since 2014, increasingly utilized Hindutva ideology for its own political gain and marginalized the religious minorities of the country, especially Muslims. The citizenship amendment act of 2019 has demonstrated how allegedly benign and philanthropic policies are a cover for Hindu-nationalist agenda in India.
Both leading experts in their respective fields, Prof. Faisal Devji is a professor for South Asian history at Oxford University while Dr. Sumrin Kalia is a post-doctoral fellow at the ERC funded Takhayyul Project working on South Asia.
Earlier this event was planed with Dr. Ammar Ali Jan as a speaker. Unfortunatley he is not able to present. We are happy to have Dr Sumrin Kalia instead.
---
Date: May 16, 2022 | Time: 18:00-20:00
Location: Seminarzentrum L113, Freie Universität Berlin - Otto-von-Simson-Straße 26, 14195 Berlin
---